Shrinkwrap Systems
and Film Designed for
your growing business
We're Ready For all your Shrinkwrap Needs
Shop Now
Qty Pricing
Trusted Source
Trusted for 20+ years to meet all our clients Shrink Wrapping needs.
Fast Shipping
We ship next day in most cases to US and International locations
Custom Quotes
Discounted pricing to meet your large order needs. No minimums, no maximums.
Eco Friendly
Recyclable & Eco friendly options including the worlds most eco friendly shrink film - Biolefin
Highest Quality
We're the Home of the "free-arm" sealing wand. The most versatile and productive sealing wand in the world.
Selection & Price
Large in stock variety of film types & options with industry best pricing.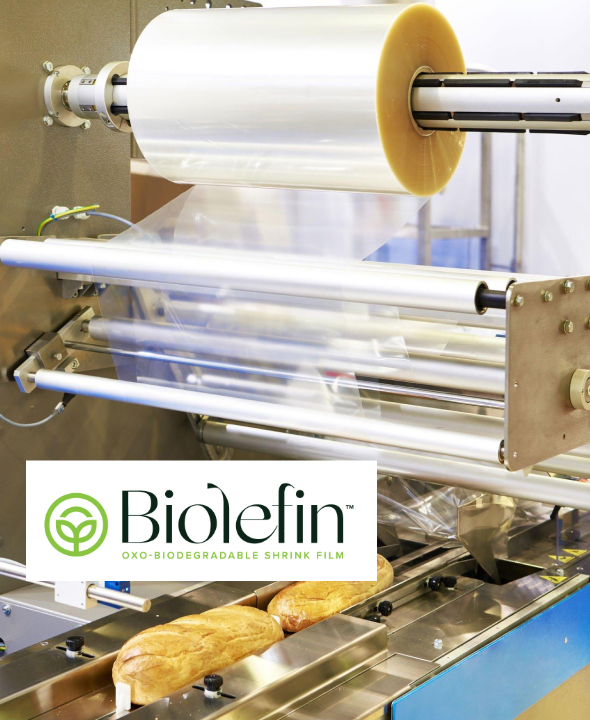 Protect Your Products, Your Customers, Your World
OXO-Biodegradeable Shrink Film
Looking for an eco-friendly option for your packaging needs? Consider using Biolefin™ Oxo-Biodegradable Polyolefin, a type of shrink film that is designed to degrade in landfills over a period of 2-3 years. This product is a standard polyolefin that contains mineral salt additives which enable the film to absorb moisture. Once disposed properly, the film will break down into biomass through a natural biological process facilitated by the microorganisms found in landfills.
Biolefin™ 2.0 is the latest version of this film, and it degrades even faster than the previous version. It begins the biodegradation process within a suitable landfill after being discarded, and will complete it within 2-3 years. It's important to note that Biolefin™ will not degrade if used for products sitting on shelves.
If you're looking for a reliable shrink wrap company that offers an environmentally-friendly solution, consider using National Shrink Wrap. They offer a variety of shrink wrap products, including their own national shrink wrap system, as well as biodegradable shrink wrap options. Additionally, you can also consider National Wrap as a supplier for your packaging needs.
What Our Customers Have To Say

I just love this thing! I wrapped 120 tarts in less than an hour and that was my first time using it…

We recently purchased a Shrink Wrap system from you for our soap-making business. I just wanted to let you know that your product is excellent and easy-to-use. Your product has enabled us to provide our customers with a much more professional-looking product. I don't know, now, what we'd do without it!

Grant (aka ScissorBoy) Online TV Series for Hairstylists
Thankst. You have great customer service. Much appreciated! Best of luck to you too. -Grant (aka ScissorBoy) Online TV Series for Hairstylists

Just got my shrink wrapping system today and it works great! Thanks so much. I'm really glad I went with the free wand system, my boxes look awesome.

Dave Romesburg, hGrace Confections
I wanted to say THANK YOU! I am just starting out in confections and I tested the shrink wrap and wand today on a few boxes, STELLAR! Thanks again for all your details, and having all the information readily available....Honestly what a great system, easy to learn, simply need to tweak my skills slightly which I know comes with time.

Maragarita, Golden Sapphire
THANK YOU SO MUCH FOR SUCH AN AMAZING PRODUCT! We were referred to your company by a couple of fellow soapmakers and I couldnt have been happier with your shrinkwrap system ! It is an amazing piece of equipment and is so worth the investment! Thank you!